Veescope Converter 1.0.4
Description
Veescope converter converts your Quicktime compatible videos to mobile devices and Youtube. Veescope Converter can trim clips using the the built in timeline. Veescope Converter lets you save all of your settings to a Veescope Converter document. Videos can be dragged between Veescope Converter windows to create new Veescope Converter Documents.
What's New in this Version
Grab any frame from a video and save it to the Clipboard or drag it to your desktop.
System Requirements
Mac OS 10.6 or higher.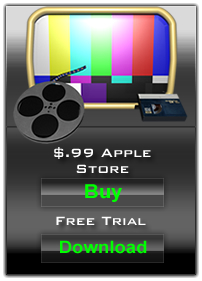 Clicking on above the download button will not load the software on your system. You will need to install it. Some of the features have been limited from the full version.
We back all of our products with a 100% customer satisfaction gaurantee or your money back. We do not share your personal information with any third party.