Version 2.2
Description
Veescope Live provides real-time chroma keying, Quicktime movie export, digital photo import and export, Final Cut Pro XML export, and recording. In addition, Veescope Live works with any Quicktime video input source, such as a DV, HDV, DVC Pro HD, or an HD capture card. It includes a full resolution HD Waveform monitor, RGB Parade and Vectorscope.
What's New in this version
Now records the Chroma Keying Effect directly to the Quicktime Movie. Select the Transcode checkbox and then the Record Key checkbox from the Recording Tab in Veescope Live.
System Requirements
Mac OS X 10.5 or higher.
Intel MacIntosh Only.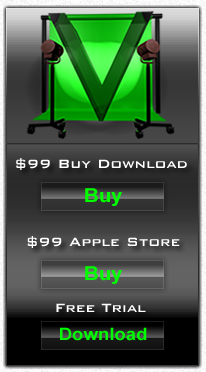 Clicking on above the download button will not load the software on your system. You will need to install it. The demo version will run for only 15 minutes at a time and does not allow saving.
We back all of our products with a 100% customer satisfaction gaurantee or your money back. We do not share your personal information with any third party.
Please Read Our End User License Agreement