Announcing DVDxDV Pro Release 1.087
We are please to announce the release of DVDxDV Pro 1.087. This newer version features a DVD eject button which allows you easily load and eject DVDs.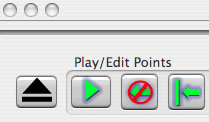 The new version is available at the following link. You will see a blank page when you click on the link below, but the file will begin downloading. Please check your downloads window in your Internet Browser.
http://www.dvdxdv.com/dvdxdvVersions/DVDxDVPro.dmg.zip
DVDxDV At NAB 2008